<![if !vml]>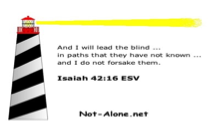 <![endif]>
A New Ministry: Not Alone – Internet Ministry to the Blind (NAIMB)
The logo and these words have many levels of meaning for this new ministry. Here is the full verse:
"And I will lead the blind in a way that they do not know, in paths that they have not known I will guide them. I will turn the darkness before them into light, the rough places into level ground. These are the things I do, and I do not forsake them." Isaiah 42:16 ESV
My name is Pastor Dave Andrus and these words of God are very personal and describe my life; "And I will lead the blind - in a way that they do not know."
I lost my sight at age 11. Some might think, "How tragic to lose one's sight before they are an adult; before they finish education; before they get a job, a family." It wasn't easy but because I was led and guided by God all this happened and more.
Many of you know I graduated from Concordia University in St. Paul, MN, married my college sweetheart, graduated from Concordia Seminary and became a parish pastor for 13 years. From there, God guided my steps to do mission work to people who are blind through Lutheran blind Mission. Besides overseeing production of Braille, large type and cassette materials, an Outreach Center ministry was formed establishing 66 Outreach Centers for the blind around the country. As the word of God says, "The rough places were made into level ground." for thousands of people who are blind.
After 15 months of helping Lutheran Blind Mission and Lutheran Braille Workers unify into one ministry, I was released due to financial reasons. Was this a setback? No! As one of my missionary friends put it, "God was re-positioning his worker….in a way that they do not know…. in paths they have not known."
Today, while taking care of my family's household chores I also spend a fair amount of time in support of my younger daughter who has a disability. I also now serve part time at St. Paul's Lutheran Church, a small inner city parish in St. Louis to help them rebuild and reach out into the community. Great steps have been accomplished. St. Paul's has in turn, encouraged me to once again serve people who are blind and therefore hosts this new ministry called "Not Alone – Internet Ministry to the Blind."
Being aware of other ministries providing materials in Braille and large type, I now reach out with "audio podcast files via the internet." Nothing is being done in this area to reach people who are blind with a meaningful message of the Gospel. There are secular world podcasts for this and that, but a podcast focused on the life of a blind person's life is a niche that is not being served. People who are blind are using computers and IPhones that are equipped with audio output. Through this technology they can receive and listen to podcasts -- and they crave them!
I have been sending out a weekly Biblical podcast for over one year. It reflects on a Bible reading of the week; how it relates specifically to a person who is blind and aimed to reach people who can't get to church because of their blindness. The feedback via email and phone calls has been positive and strong! "I will turn the darkness before them into light… the rough places into level ground… these are the things I do." says the Lord.
Audrey a Blind Outreach Leader wrote:
"Thanks Pastor Dave for your reflections of the week and the Word and for refueling my spiritual tank. Daily I ask God to place me where He wants me and use me where He puts me and He does and I love it! I'm sure you know how rewarding doing His work can feel, especially to those of us who do not see. Your podcast has provided the key with which to refuel my spiritual tank! Having heard your thoughts has brought me a new-found peace and comfort that I haven't gotten from any church service in many years. Many Blessings!"
Adrienne from Portland wrote:
"Pastor Dave, thank you for including me in this [podcast] list. I really enjoyed your first podcast. You have so much wisdom to share and many people, including me, have a lot to learn from you. I didn't think it was too long, 15 to 30 minutes is usually a good length for a podcast."
Lupita wrote:
"I can't tell you how good it is to hear from you. I saw the sample of your podcast and really liked it. Thank you for sending it. I am working at an agency teaching braille and daily living skills. I'm really enjoying it. Thank you again for sending this and be in touch."
Chris in a phone call said:
"The podcast is too short. I love how you speak because it's like you are in my living room just talking with me. I feel so comfortable. There is no barrier between us."
Still more doors are opening… "and I do not forsake them."
<![if !supportLists]>Š <![endif]>Bible Studies--Many who receive the weekly podcast are also asking for a weekly Bible study podcast. Recording has begun. More about this in the next newsletter.
<![if !supportLists]>Š <![endif]>Outreach Centers--The majority of the 66 outreach centers for the blind are still up and running. Praise God! By keeping in contact with outreach center pastors and blind leaders, they have noted that they really do not need to be under the jurisdiction of a national organization. They want, however, to be networked, trained and encouraged. I am being encouraged to consider facilitating such a network as part of my ministry. This too is underway and will be highlighted in upcoming newsletters.
Please consider partnering with this audio podcast and outreach center networking ministry to provide hope and restore comfort to those who are blind. If you would like to support this ministry, please donate via PayPal at the website link below or send a check to:
Blind Ministry
St. Paul's Lutheran Church
2137 E. John Avenue
St. Louis, Missouri 63107